FA Cup Upsets Game 2016-17
OK, here goes for an easy but fun game. Choose your special teams and sit back and enjoy …
Name any
FIVE teams
active from the FA Cup First Round that you will go furthest in the competition.
Who might be potentially giantkillers?! Or have the luck of the draw?
For each team you select you receive
five
points for every round successfully passed. For example, if you chose Coventry and they lost in the third round, you'd have ten points.
However, if you choose one or more NON-LEAGUE teams your points will be
doubled
for every round passed, so Sutton United losing in that same third round as previous example Coventry would see you with twenty points. But … of course upsets are more difficult for non-league teams! And … yet again … the draw has been quite unusual this year - lots of non-league teams play against each other so we're guaranteed at least 9 of them in Round 2.
On the other hand, if you look at the top of League Division 1 - well, these teams should in theory be the strongest. It's over to you to decide!
Only obvious rule is that you can't have exactly the same 5 teams as anyone else on your forum!
Get your selections back BEFORE kick-off of the first matches scheduled - so that's
Friday (4th November) before the 7.45 kick-offs
… no late selections please, to keep it fair from everyone.
These are the matches in Round One, non-league teams in red, so you've got it very easy to decide …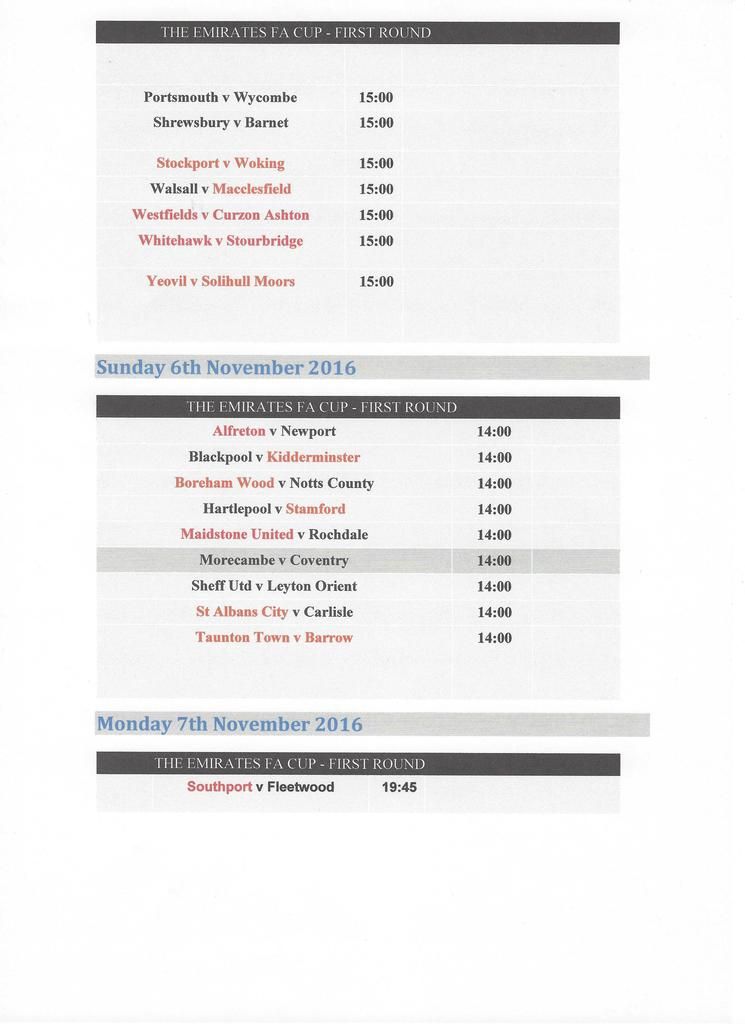 --------------------------------------------------------------------------------------
My selection
:
Dag & Red
Plymouth
Peterborough
Walsall
Sheff Utd
Just like that - just give your
5
hopefully successful teams ...